LA HOUSING BUBBLE?
Three months into the new year, 2021 has been anything but boring.  On January 6th, we all witnessed an insurrection on our nation's Capitol, and 14 days later, we inaugurated our 46th President of the United States. All the while, the real estate market in Los Angeles has continued the same scorching pace we saw beginning in the second half of 2020.  To the astonishment of buyers, sellers, agents, and analysts alike, the current market has proven itself to be like no other.  The speed at which the market is moving, and prices are rising, has some people concerned we could be seeing another LA housing bubble as we saw in 2008.   And yet, things are different this time around as are the fundamentals of today's market versus the market of 2008.  Here are 5 reasons why we won't we seeing a housing bubble anytime in the near future.
1. Lack of Inventory
To say we are in a seller's market would be an understatement.  By definition, a healthy, balanced market is one where there are six months of inventory.  Anything more than six months would be considered a buyer's market and anything less than six months would be considered a seller's market.  Nationwide, we have been sitting at around 2-3 months of inventory and the same is true for LA, where we have been holding steady at around 2 months of inventory since last summer.
2.Buyer Demand
With such low inventory, we can say this market is economics 101, one of supply and demand.  Due to several factors including low-interest rates and fewer move-up opportunities as more homeowners are deciding to stay put in their existing homes, there are simply more buyers looking for homes to buy than there are available homes for sale.  Several analysts and leaders within the real estate industry all agree current and future demand will outpace the supply of available homes for the foreseeable future.
3. Interest Rates
In 2020, we saw mortgage interest rates reach historic lows 15 times throughout the year.  In January of 2020, rates started the year at 3.67% for a 30 yr. fixed and ended the year at 2.67%.  We have recently seen a sharp rise since those historically low numbers, and yet, as of the beginning of March 2021, a homebuyer with a 720+ FICO score can still get a 30 yr. fixed mortgage for around 3%. For as long as interest rates have been tracked, this is within the range of a historic low.
4. Equity
In the three years leading up to the Great Recession, homeowners nationwide treated their homes like bank accounts, pulling out a total of 824 billion dollars in home equity.  This left a lot of homeowners in a compromised position when they saw their homes decrease in value by 20% while being faced with the need to sell the home because of a job loss or increased mortgage payment due to an adjustable loan.  The three years leading up to the 2020 recession saw homeowners having learned the lessons from before.  In comparison, they only cashed out 232 billion dollars worth of equity.  Today, 90% of homeowners nationwide have at least 10% equity in their homes.  This means a much smaller group of homeowners today would be vulnerable to a short sale or foreclosure situation than in 2008 should they fall upon hard economic times.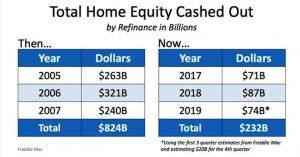 5. COVID-19 Vaccine and the Economy
One of President Biden's first 100 days promises in battling COVID-19 was to ramp up the vaccination of Americans to have 1 million people vaccinated a day.  As we were nearing that number at the time of his inauguration, we are currently vaccinating Americans at a pace of 2.1 million a day.  With the recent promise of enough vaccine being available to vaccinate every American by the end of May, the path to safely opening up the country and the hope of returning to the closest sense of normal life we've seen since pre-pandemic becomes clearer and more a reality.  This will definitely be a boost to the overall economy and real estate market as more and more people return to work, there will be more eligible homebuyers looking to purchase a home.
What This Means for You
If you consider the perfect storm of record low-interest rates combined with extreme buyer demand and record low inventory, you have the makings of a real estate market that still has a lot of steam in it.  Add an economy on the verge of surging due to increased vaccinations of Americans,  and this current market could continue well into Q4 of 2021.  Rising interest rates will take some buyers out of the market, which will lessen demand slightly while slowing the rate of home price appreciation.  If you're one of those who is waiting for the real estate market to crash "as it did before", you may be waiting a long time and in doing so, miss the opportunity of buying a home today.  As the old adage says "Don't wait to buy real estate.  Buy real estate and wait".